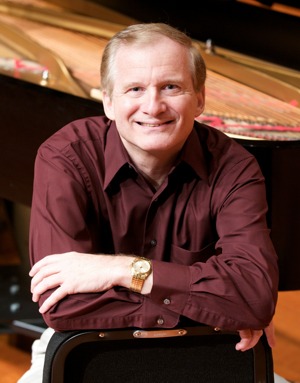 Composer JACK GALLAGHER'S works have been performed or recorded by the London Symphony, Virginia Symphony, Charleston Symphony, Cleveland Chamber Symphony, Polish Radio Symphony Orchestra of Krakow, Kiev Philharmonic, U.S. Air Force Band of Flight,
GRAMMY
® award-winning pianist Angelin Chang,
Trio Terzetto
, and others.
His Naxos debut recording by the London Symphony Orchestra conducted by
GRAMMY®
-winner JoAnn Falletta, recorded at Abbey Road Studios, was greeted by twin rave reviews in
Fanfare
magazine.
Fanfare
acclaimed the disc as "a most welcome release of some absolutely fantastic music," noting "there is poignancy, explosive energy, good-natured humor . . . and a warm-hearted directness that is tremendously engaging. Citing his
Berceuse
as "so beautiful it could make you cry,"
Fanfare
noted "Gallagher writes beautiful music and he is very, very good at it." The disc was chosen as "KBAQ CD of the week" by Sterling Beaff, Music Director, KBAQ 89.5 FM (Tempe, Arizona) and for "New Classical Tracks: Orchestral Discoveries" by Julie Amacher of Minnesota Public Radio.
The
Cleveland Plain Dealer
said his music "evokes glowing images" and exhibits "glistening personality." Gallagher's
Symphony in One Movement: Threnody
was acclaimed by in
Tune
magazine as "enormously inventing" by
Österreichische Musikzeitschrift
as "a one-movement symphony of great colorfulness," and by
Abeillemusique
(Paris) as "a marvel of invention and orchestration." His compositions are included on fourteen published compact discs on the Naxos, Musical Heritage Society, Capstone, Vienna Modern Masters, Summit Records, Promuse, Altissimo, and ERM labels.
Gallagher's music has been broadcast over WGBH (Boston), KUSC (Los Angeles), WCLV (Cleveland), WQXR (New York), WNIB (Chicago), KING (Seattle), WETA (Washington, D.C.), WGUC (Cincinnati), MPR (Minneapolis/St. Paul), KBPS (Portland, OR), KVOD (Denver), KBAQ (Tempe), KFMA (Austin), WNED (Buffalo), WBHM (Birmingham), WWUH (Hartford), Classical 24, the Classical Public Radio Network, and numerous other stations. His Berceuse, recorded by the Polish Radio Symphony Orchestra of Krakow conducted by Szymon Kawalla, has been broadcast 50 times over
Radio Stephansdom Klassiksender
, 107.3 FM, Vienna, Austria.
He has been the recipient of awards, grants, fellowships, or recognition from the Ohio Arts Council, the Charles Ives Center for American Music, Meet the Composer, the Yaddo Corporation, the Atlantic Center for the Arts, the Virginia Center for the Creative Arts, The Petit Jean International Art Song Festival, the Barlow International Composition Contest, the Virginia chapter of the College Band Directors National Association, and The College of Wooster Henry Luce III Award for Distinguished Scholarship.
As a producer, his recording for TNC Records of Messiaen's Oiseaux exotiques with pianist Angelin Chang, conductor John McLaughlin Williams and the Cleveland Chamber Symphony (TNC CD 1515) won a 2007
GRAMMY®
Award in the classical category "Best Instrumental Soloist Performance with Orchestra."
Gallagher is the Olive Williams Kettering Professor of Music at The College of Wooster, Ohio. He holds doctoral and master's degrees in composition from Cornell University and the bachelor's degree
cum laude
from Hofstra University. He studied composition with Elie Siegmeister, Robert Palmer and Burrill Phillips, participated in seminars with Karel Husa, Thea Musgrave and Ned Rorem, and in masterclasses with Aaron Copland, George Crumb and William Bolcom.
He lives in Wooster with his wife and is the father of two grown children. For additional information, please visit:
www.JackGallagherMusic.com